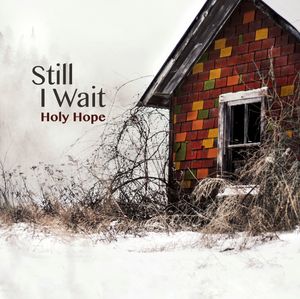 We're excited to announce the release of Holy Hope's newest album, Still I Wait. The title was chosen as often in life we experience times of waiting. In our waiting it can be difficult to be patient, to be still, to accept what is, especially when there is something more, something greater that we desire, that is beyond our control. 
In our powerlessness to change our circumstances, my hope is that in the stillness, in the waiting, we learn to find the grace and courage to let go, to trust, for in doing so, peace, acceptance, and hope await.
Will I Ever Find My Way 
The unsung lyrics are sentiments of longing, wondering and pleading, "Will I ever find my way back home…please help me." In our trials, fears and struggles, we can long for "home," for that place that feels safe and comforting. Often we need help from God and others to find our way back to that place of refuge. 
Lord, I Need You 
The unsung lyrics are "Lord, I need you. Lord, I need you…to set me free." The phrase "Lord, I need you" is repeated over and over again, in different tones and ranges, as a prayer of longing to be "set free" from turmoil and to experience God's loving presence and peace. 
A Walk in Reverence 
Creates an expansiveness in which we may walk within the inner recesses of our hearts, experiencing wonder, simplicity, peace and innocence. 
A Love Left Longing
Upon returning home from the musical "West Side Story," I composed this song as a response to the "love left longing" between Maria and Tony due to their tragic deaths. 
Still I Wait 
Expresses the yearning hope we feel for a loved one to return, heal, and be fully present with us again. In the quiet of the nighttime silence, the inner aches and cries of the heart can no longer be stifled…"still I wait for you…" 
Majestic 
It is a dialogue between two people, capturing the bitter sweetness of life experiences and glimpses of the heavenly perspective. 
Our Last Song 
The unsung lyrics reflect the dialogue of needing to let go of the one(s) we love. "I must go," is spoken, along with the needed reminder and comforting assurance that "I am with you always. 
Evening Prayer 
It is a peaceful reflection of the gratitude for all that was experienced throughout the day. 
Mary Lead Us 
In the midst of the challenges we face, we turn to others to help us. In faith, I turn to Blessed Mother Mary to "see me through" this life, safely to heaven. 
The unsung lyrics are: 
Holy Mary, loving Mother, lead us to your chosen Son. (2x) 
1. I am searching, I am seeking and I cannot find my way. 
Refrain: Mary lead us, Mary guide us, take us to our heavenly home. 
Holy Mary, loving Mother, lead us to your chosen Son. (2x) 
2. In my fears and in my longings, help me find the peace I seek. 
3. May I trust you, may I give you, all that dwells within my heart. 
Life Together 
Shares the beauty and joy in the wonder of life lived together and the support in facing challenges together. 
Innocence 
The image that comes to mind is of one in a garden, taking in all the breathless wonders. Possessing a childlike innocence while experiencing all the joy and beauty of nature and life. 
So Love May Fill the Earth 
These words were written on Corpus Christi as an expression of Christ's union with us and the transformative power of God's love to change our lives…freeing us to love all we encounter, filling the earth with love. 
The unsung lyrics are: 
I am the vine you are the branch abide in me always. 
As the Father lives in me so I will live in you. 
Eat my body drink my blood, that's been shed for you. 
Eat my body drink my blood and I'll be one with you. 
Eat my body drink my blood. Eat my body drink my blood, 
Trust in me and you will find that I am in your midst. 
Listen for my still soft voice and there you'll find your way. 
My peace I leave, my peace I give, may peace be in your heart. 
Love as I have first loved you so love may fill the earth. So love may fill the earth… 
Awash With Love 
Expresses the joy and wonder of love.