In developing Holy Hope's orchestrated album "Hope Abounds", composer Kerry Douglass Keyser collaborated with a number of musicians from the Wheaton College Conservatory of Music. Over the next few months, we'll be profiling some of these musicians. Today, let's meet Elizabeth Kapitaniuk, Christina Schempf, and Elisabeth Follman. 
Elizabeth Kapitaniuk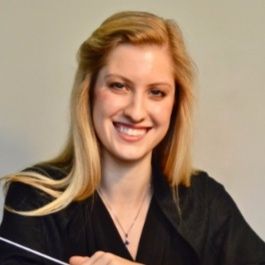 Elizabeth Kapitaniuk is completing her Bachelors in Music Education at the Wheaton College Conservatory of Music (IL).  She studies clarinet with Trevor O'Riordan and has served as Principal Clarinetist of the Wheaton College Symphony Orchestra and Symphonic Band for the past few years.  In 2015-16, she performed as one of the concerto competition winners with the orchestra in their home concert and tour to Southern California. 
She served in administrative roles on the Symphonic Band cabinet from 2013-2016, two years as President and Vice President. She is also a conductor who has studied under Dr. Daniel Sommerville and Dr. John W. Trotter.  Additionally, she has participated in the Conductors Institute of South Carolina, worked in master classes with Maestro John Nelson, and has conducted the Wheaton College Symphony Orchestra, Symphonic Band, Concert Choir, and independently organized ensembles in various concert performances and new work premiers. 
As an educator, she has taught private clarinet students in the Chicagoland area for the past six years, ranging from beginners to advanced high school students, and works as a Teaching Assistant at Birch Creek Music Performance Center during their summer Symphony Orchestra session.  She is a member of the National Association for Music Education, College Orchestra Director's Association, and The Conductor's Guild.  In 2017, she was awarded The Presser Foundation Scholarship by the Wheaton College Conservatory. 
Elizabeth plays on the song Hope Abounds. 
Connect with Elizabeth on LinkedIn. 
Christina Schempf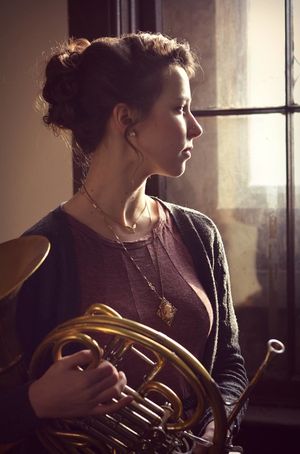 Originally a native of the rolling farmland of southeastern Wisconsin, Christina recently completed her Bachelor of Music in Performance at Wheaton College in the spring of 2017. Christina has performed with the Wheaton College Symphony Orchestra, Camerata Chicago, the Symphony of Oak Park and River Forest, Classical Symphony Orchestra, Benefit Brass, and the College Light Opera Company. She is a student of Melanie Cottle and has studied with Douglas Hill in the past. Christina is currently pursuing graduate studies in horn performance at the New England Conservatory with Richard Sebring.  
Christina is passionate about cultivating a rich and diverse appreciation for music in the coming generation of musicians. She has coached sectionals and chamber ensembles at Wheaton Academy, completed a practicum at Monroe Middle School, and enjoys teaching students privately. This past summer, she was engaged in a music residency with the Intersect Arts Center, an organization that provides arts education to underserved communities in St. Louis. She was employed as a teacher aid of a conflict resolution camp which combined music, dance, and technology to address issues of violence and collaborated with various visual artists to produce a multimedia event that included a gallery opening and concert. 
Aside from her pursuits in music, Christina enjoys various outdoor recreational activities including backpacking, distance biking, skiing, and horseback riding. She also loves to spend her time reading poetry and doing stained glass. She has two loving, supportive parents, three inspiring siblings, and an adorable baby godson.
Christina plays on the song Dance of Joy, Mysterium, and Our Last Song. 
Visit Christina's website or connect with her on Instagram. 
Elisabeth Follman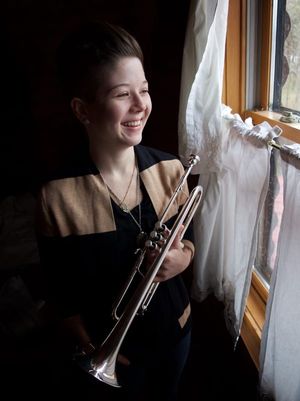 Elisabeth Follman is a Chicago-based trumpet player. She recently graduated with a Bachelor of Music in Performance from the Wheaton College Conservatory. While at Wheaton, Elisabeth was engaged as Principal trumpet of the Wheaton College Symphony Orchestra and participated in the Showcase jazz combo. She has also played as Principal trumpet in the Conservatory's Symphonic Band and Jazz Ensemble.  Ms. Follman's primary teachers have included Herbert Smith, Dr. Terry Schwartz, and Kari Lee Phelps. Most recently, Elisabeth studied with Mark Ridenour. 
Elisabeth plays on the song Dance of Joy. 
Visit Elisabeth's website or connect with her on Facebook and Instagram.